Sing like no one's listening, love like you've never been hurt, dance like nobody's watching, and live like it's heaven on earth. Here are the joys and sorrows of life,let's spend the time together.
  Though we are still in the grip of the Covid-19 pandemic, it's refreshing to see the strong sisterly bond among women who encourage and give each other hope.
  In a heartfelt online post this week, actress Minnie Dlamini showed love for fellow artist Nandi Madida, penning a sweet note to Nandi who's recently featured in Beyoncé's Black is King.
  The post celebrated the achievements of the star in the last couple of weeks.
"I would like to celebrate this queen today, I am beaming with pride for the incredible journey you're on," said Minnie, posting a snap of Nandi.
Madida was among the local and international stars who featured in Beyoncé's visual album and film "Black is King". She plays the role Nala alongside Beyoncé, Jay Z, Kelly Rowland, Pharrell Williams and Naomi Campbell.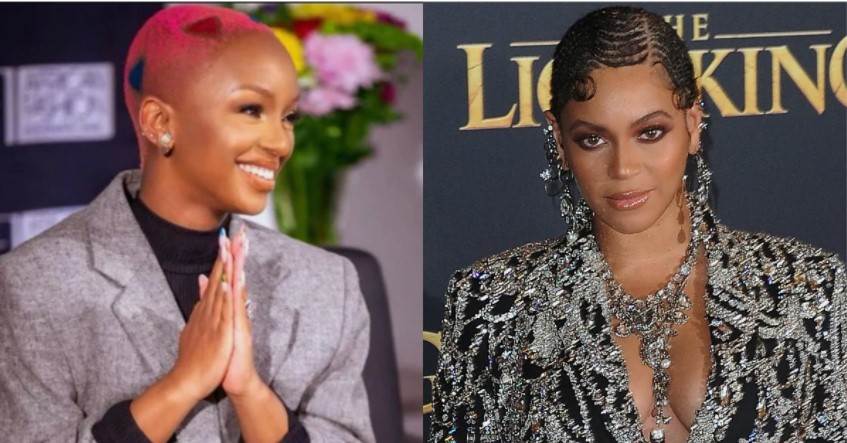 Minnie said Nandi was someone she looked up to when she was growing up, considering her a big sister and her "Beyoncé".
"You were always my Beyoncé and to see you in Black is King was such a full-circle moment. From little girls who would sing, dance and act and do pageants, to women who never stopped dreaming and inspiring. Halala Queen Nandi Halala. I love you sis' wam."
  Besides her international fame, Nandi has been winning locally.
  She took home the Best Collaboration prize, alongside rapper KO, this week at the South African Music Awards.
  Nandi took to Twitter to share her joy at the win. Madida and rapper KO walked away with the SAMAs Best Collaboration for their hit single "Say U Will".
  Madida only received the award now as this year's SAMAs were held virtually due to the coronavirus pandemic.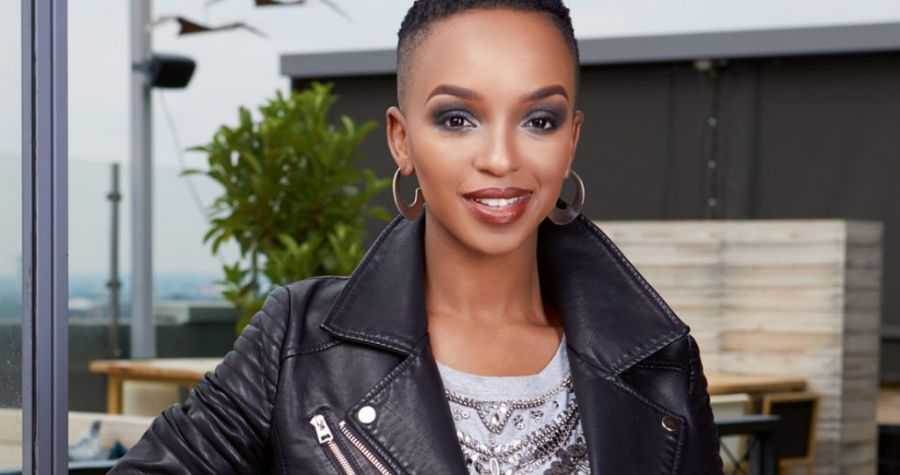 "No guys! Wait! Is this even real? I worked with the beautiful, kind and iconic Beyoncé who picked me to be in her historical visual album and then I win a Sama. God and the ancestors are truly showing off! Thank you guys so much for your love! Thank you! I love you!" said Nandi.
  Nandi posted a photo of her gift, which seemed to include a photography print, and the noted and wrote her own message of gratitude to Queen Bey to thank her for the opportunity to be in the project: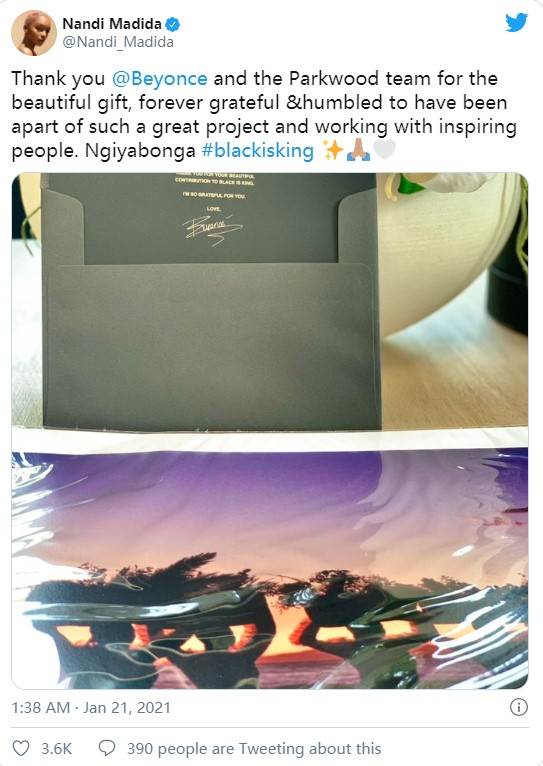 Thanks for reading this article. How do you think of this story? Welcome leave your comments belowing!
Thanks for reading our story! Keep smiling, because life is a beautiful thing and there's so much to smile about. If you're in need of motivation and inspiration, If you'd like to see more wonderful moments,please like our page,you will see our information the first time.